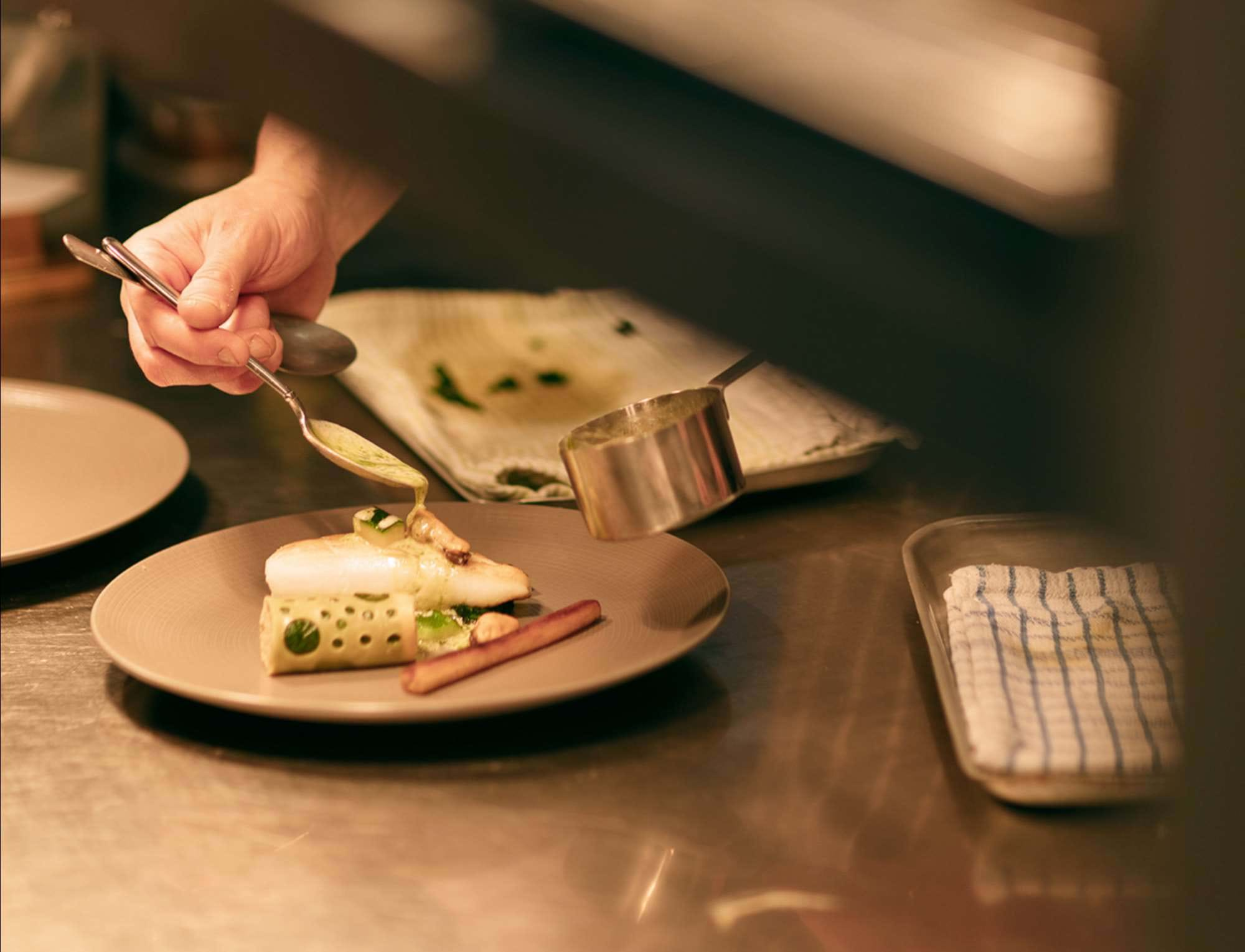 Chef de Partie
Reporting to Junior Sous Chef
Responsible for junior chefs, preparing staff meals, tidy dry store, overall kitchen standards and knowledge
Your Purpose

Fulfil your role as a chef in the kitchen, on your section and helping on other sections as required. Work directly with the kitchen team and work in partnership with the Front of House team and hotel management to drive the food and beverage strategy to ensure success in line with business ambitions.
Expected Behaviours
Open: to new ideas, opinions, changing, owning mistakes.
Commit: to completing tasks and supporting the team and individuals.
Respect: yourself, each other and the environment.
Energy: use empathy, look after yourself and others.
Key Responsibilities:
Knowledge of dishes, cooking and presentation on your section
Organise your section
Place all your orders on time
Expected leadership Behaviours:
Manage your time efficiently
Help out on other sections
Learn and evolve as a chef
Key Area - Product
QUALITY
Expectation
Inspect and taste all foods to maintain quality standards and uphold health regulations.
Proactive, innovative and creative upgrading of the menus and dining experience
KPI (measurement)
Maintain kitchen standards, a 3 rosette and 4 star standard - aspiring to 4 rosette, 5 star standard
Responsible for knowledge of dishes, cooking and presentation on your section

GUEST RELATIONS
Expectation
Proactively, innovatively and creatively upgrade the guest and employee's experience
KPI (measurement)
Actively listen to feedback
LEGAL, HEALTH AND SAFETY
Expectation
Inspect food storage areas (including fridges and freezers), kitchen equipment and food preparation areas to meet hotel Cook Safe standards and EHO regulations.
Effective liaison with hotel management regarding maintenance of any equipment.
Ensure that all activities are carried out honestly, ethically and within the parameters of Scottish Law.
KPI (measurement)
Complete and maintain an Emergency First Aid Training Certificate
Complete and maintain a Fire Extinguisher Certificate
Responsible for temperatures and filing of records
Contribute to any EHO assessment when required
Good kitchen and personal hygiene as detailed in the House Rules
Have Basic Food Hygiene certificate

POLICIES & PROCEDURES
Expectation
Develop internal communications and processes between the kitchen, front of house and management
Review and monitor health, safety and hygiene policies and procedures
Control stock, supporting the team with orders and deliveries
KPI (measurement)
Correct storage of food stuffs as detailed in the House Rules
Clean and tidy the dry store weekly
Inform management when finishing shift and before leaving the building
Follow recycling procedures
Assist with the control, receipt, storage & issue of supplies
Assist with following the programme for cleaning the kitchen & its equipment
OPERATIONS
Expectation
Manage and control daily operations, making suitable changes and adjustments to best suit the business
Assist in menu planning including staff meals to determine that sufficient items are ordered weekly
Implement any cleaning programs for all kitchen areas
KPI (measurement)
Responsible for knowledge of dishes, cooking and presentation on own section
Support management by completing all daily tasks
Assist in preparing and cooking the weekly meal plan for staff meals
Attend morning meetings
Adapt daily to business changes, positively taking extra bookings in the Restaurant or for food requests
Key Area - People
RECRUITMENT, RETENTION & TRAINING
Expectation
Identify any gaps in the team and advise management
Support HR in any training and development, highlighting areas for improvement

KPI (measurement)
Listen, learn & put into practise all aspects advised in training
Complete FLOW training modules
Update the paper rota daily
Update your weekly timesheet and submit on SAGEHR by Sunday, 12noon

LEADERSHIP
Expectation
Contribute to morale and team spirit by maintaining effective relationships with colleagues
Assist in implementation of any training plans, taking responsibility and supporting the team
KPI (measurement)
Use knowledge and experience to train others
Help, guide and support junior members of the team in their training
Core values to be maintained at all times
Key Area - Profits
FINANCE MANAGEMENT
Expectation
Manage your time and others, efficiently
Price check all purchases to maintain GPs in line with business targets

KPI (measurement)
Absenteeism and lateness at 5% or below

ENVIRONMENTAL, SOCIAL AND GOVERNANCE
Expectation
Play a broader role in the business being more socially responsible
KPI (measurement)
Uphold the Diversity and Inclusion Policy, maintaining Gold GTBS and working towards a Green Michelin Star